PREPARING FOR A RETURN TO TROPICAL CRUISING
Dear SIYC Friends,
Tonight is the first SIYC meeting of the season.  Unfortunately Janie and I will miss it.  I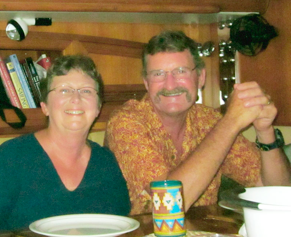 don't get off work here on the river until 1900 hrs, and by the time I get ashore via the crewboat and drive from Astoria into town, the meeting will be winding down.
It was good seeing all of you who participated in the Cathlamet Sea of Cortez Rendezvous a couple of weeks ago.  We hope to be able to attend the October meeting before heading back to the boat.
We still have a month and a half before we start driving down to San Carlos for the start of the 2012/13 cruising season in Mexico.  But we are already pretty busy getting ready.  Here's a brief breakdown of our major chores:
Anchor Chain.  Our anchor chain was beginning to bleed rust.  While in the yard in San Carlos we investigated having it re-galvanized in Mexico.  It seemed like something we should have been able to do down there, but after weeks of false leads and disappointments we gave up, loaded the chain into the back of our Ford Explorer and brought it home for re-galvanizing at Valmont, Pacific States Galvanizing in Tualatin, OR.  We tried to declare it at the border so we won't have to pay duty when we bring it back down to Mexico, but the officers at the border check point would not put anything in writing.  They just said we would have "no problem" bringing it back in.  I hope they are right.  We've seen the "no problem" movie a few times now, and sometimes the ending is not what we were led to expect.  For those of you needing chain re-galvanized, Valmont did a great job.  It ended up costing almost twice what we were expecting.  They had to sandblast the chain.  That cost about $250.  The galvanizing itself also cost about $250.  We have 250′ of 3/8″ G-4 chain.  To replace it with new would be about $1000.  So I think it was worthwhile getting it re-coated.  If we had taken it in a year or two ago we might have saved the cost of the sandblasting.
3% Foreign Transaction Fees:  Towards the end of last season we started noticing that we were getting charged a 3% Foreign Transaction Fee (FTF) for all ATM transactions and also for credit card purchases.  This was a new fee that our banks did not charge until last year.  That 3% really adds up, so when we got home we started shopping for different ATM and credit cards. Finding cards without FTFs was hard. Janie can give you better details, but I believe we ended up getting a Capitol One Visa Platinum Card.  And we switched our banking over to Fidelity Investments Cash Management Account which we will be able to access using our new debit card.  The Capitol One card charges no Foreign Transaction Fee, but they are starting us off on a really low credit limit compared to what we have with established cards.  One nice thing about the Capitol One card is that it has pictures of us on the face.  That might make it more difficult for an identity thief to make false charges on our account.  The Fidelity account charges a 1% FTF, but they absorb the normal ATM transaction fees, so it works out.
Dental Work.  We are really bummed over the dental work we had done in Mexico.  Between the two of us, over the five years we have been in Mexico, we have had 12 crowns done. They cost about $400 apiece, about 1/3 of what they cost at home.  We were really singing the praises of having our dental work done in Mexico.  We really liked the dentist and thought she was doing a good job.  But….This year my medical insurance included some dental coverage for the first time.  So we went for dental exams just to check and be sure the work we had done down there was good.  Long story short:  we need to have 11 of the 12 re-done.  The prep work was good.  The crowns were good.  But the fit of the crowns was not so good.  There were gaps between the tooth and the crown just below the gum line which allowed decay to develop. Ouch!!
SSB Antenna Wire:  When I disconnected the antenna wire from the backstay while decommissioning the boat last year I found the wire strands had blackened.  GTO-15 wire was not available in Mexico so we visited Rodgers Marine and bought a new length of wire to take back down with us.
Meds:  We buy most of our prescription drugs through a mail order service (Medco) which offers a substantial discount.  The only problem is that they normally will only ship a 90 day supply.  Since we are gone 7 months of the year, we need to plan ahead and give ourselves enough time to jump through the hoops necessary to get the 210 day supply we need before we leave.
Misc.: Of course we have lots of boat parts and supplies to buy before we go south.  We keep a spread sheet in our laptop which keeps track of engine consumables (oil and fuel filters, zincs, etc.), and preventative maintenance supplies (timing belt).  We will need to make a Costco run for engine oil, toilet paper, paper towels, and a list of other stuff that is either horribly expensive or of inferior quality, or just not available in Mexico.  We also have a bit of epoxy and fiberglass work that we need to plan out and for which we will have to purchase supplies.
I'm afraid this is pretty boring stuff.  But it's all necessary.  It's so much easier to get the stuff we need to keep the boat and ourselves in good shape when we are at home with good phone and computer connections, a dependable mail delivery system, a car, and in a place where we share the English language.  It takes a little organization and a little foresight.  The elimination – or at least the reduction – of hassles during the cruising season is worth the effort.