December 2012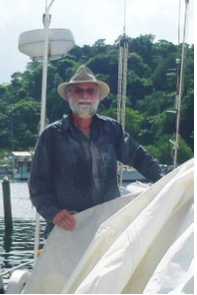 Moonshadow is now lying in Portobelo, Panama just 20 miles from the canal, awaiting transit. Since last month I have sailed 1200 miles from Trinidad, stopping at Bonaire, Cartagena, Columbia, the San Blas islands and Portobelo.
John and Janet Colby on Iris, from Lake Oswego have been with me at most of the places we stopped and will be arriving here today or tomorrow.
The first leg to Bonaire was 400 miles and took about three days tacking down wind the last portion. Bonaire is part of the Netherland Antilles and just 50 miles from Venezuela. It is very Dutch, very clean and modern. The island has little rainfall and is much different than Trinidad, more like Arizona. We hired bikes and rode across the island to a lagoon where we saw many species of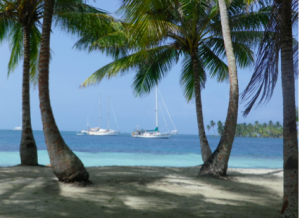 birds. After drinking a lot of good coffee and eating many Dutch windmill cookies we set off again for Cartagena, Columbia.
It was a good sail except for a few hours of motoring one day averaging 5.8 knots for the 500 miles, broad reaching. I arrived about 3 AM so hove to until daylight.
An agent is required to clear in costing $80. Went to Club Nautico marina, which is an unusual place in a great location, paid $20 US/ night. The docks are in good shape but the buildings had been torn down for some reason so everything seemed to be temporary. Big steel doors kept us in or others out? One day when returning from town we walked right past as it just looks like a steel fence around a construction area with no sign. A beautiful supermarket, much like New Seasons was only two blocks away.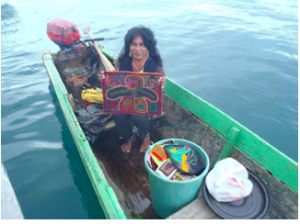 Cartagena lived up to its reputation as being one of the world's most beautiful cities. Perhaps a bit more European than Mexico. It seemed very safe with families out after dark. I enjoyed walking around El Centro, the old walled city. After a week there I cleared out of Columbia for Panama.
It was just under 200 miles to the San Blas islands but it seemed much longer because we had a lot of rain and beat to weather the last 16 hours in 22 knots of wind.
I spent a few days in the San Blas, anchored at east Lemon Cays behind a big reef several miles long and next to several tiny islands. One has a very small bar. The anchorage was very calm with a sand bottom and clear water. There are about 55,000 Kuna Indians living on the islands. They are friendly, peaceful and crime is almost non-existent. We bought molas of course from an artist in a dugout canoe.
We weighed anchor and sailed 35 miles to Green Turtle Bay Marina. It is a very nice place but located in the jungle with a restaurant open on weekends and nothing else. The first night is free and we only stayed one night.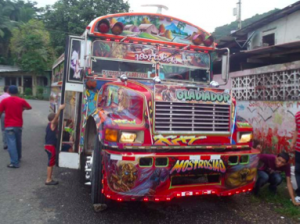 I enjoyed sailing along the very green coast of Panama. It was 22 miles to Portobelo which was discovered by Christopher Columbus in 1502 and where the Spanish based their fleet and shipped gold from Central and South America back to Spain. Of course it was a target for pirates
including Henry Morgan (Morgan's Rum) who took the town with 460 men.
It is a well protected bay a couple miles long. Not much here now but a sleepy little town with remnants of three forts. The cannons lie where the Spaniards left them four hundred years ago. I have hired an inexpensive agent here to assist with the canal transit which can be daunting if doing it on your own. On the Caribbean side this means many trips into Colon, avery dangerous city.  I hear it is much easier on the Pacific side.
My crew is writing a blog about the trip with more info and pictures:
November 201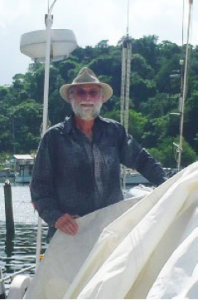 2

This will be short as we have cleared out of Trinidad and will be setting sail in a few hours. Our first stop will be Bonaire, which is around 400 miles. The weather looks promising, 10-15 kts on the starboard quarter and seas less than two meters.
Nothing exciting has happened since last month except Moonshadow has crew now. Another Portland boat, Iris, with John and Janet Colby is next to us in the marina and we are leaving at the same time for Bonaire. Hey, a yacht race! They are members of Portland Yacht Club and live in Lake Oswego. They are also completing a circumnavigation by way of South Africa. We had never met them until they came into the marina here and yet we live only a few miles apart and kept our boats very close to each other in Portland.
My cr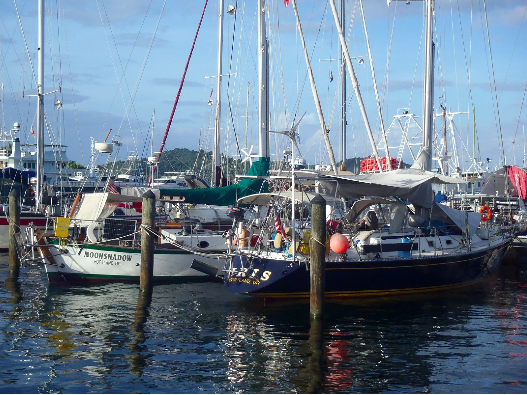 ew, Elaine, and I took Moonshadow out into the Atlantic a few days ago and had a "cracking good sail" as Elaine described it. She is British, lives in Singapore and has her own 26 foot boat there which she races. She has participated in a few races from Hong Kong to the Philippines. After our sail we came back to a lovely, quiet anchorage for the night before returning to the craziness of the marina and provisioning. I'm looking forward to being at sea again.
October 2012
From Richard Sandefur, S/V Moonshadow
"Good morning Trinidadians and fellow cruisers! Welcome to the Trinidad cruiser information net. Are there any emergencies, security issues or overdue vessels?" This is the perky voice we hear at 8:00 every morning on the VHF radio. Moonshadow is tugging at her lines and making squeaking noises like a ship. A brown pelican is drying his wings on a piling just aft. Small yellow Orioles flit about, landing on Moonshadow's lifelines in hope of wayward crumbs from a single hander. A 90 foot gaffer woody, flying a flag from St Vincent has arrived overnight and is at the customs dock awaiting clearance. The sun has been up for 21⁄2 hours and promises to be another hot, humid day with a chance of afternoon thunder showers. I am having coffee and trying to wake up and start projects, right after catching up on current events from BBC World Service radio. Something about special coverage of a debate in Denver?
A few days ago during the morning VHF net someone broke in with a pan- pan. They were at anchor just outside the marinas and were hit by a large Chinese fishing vessel which was trying to maneuver into a haul out facility.
Fortunately there were no injuries and the damage was confined to a crushed dinghy.
A fishing co-op lies at the end of the narrow bay. The fishermen have large open boats with 125 horsepower outboards. They love to zoom by the marinas and through the fleet of anchored boats at 25 knots. Two years ago, one of them hit a cruiser in his dinghy. Not sure the extent of his injuries but, was hospitalized for some time. The operator of the fishing boat had to pay a small fine. Where is machizmo mouse?
Chaugaramas was the location of a large US naval station during WW II and remains an unusual place in that there is no town but, five marinas encircling a bay with their accompanying boatyard, chandlery, bar/restaurant, and store. It is about five miles from the capital, Port of Spain. Most people don't cruise Trinidad but, come to escape the hurricane season and have repairs done. At 10 degrees 41 north most of the depressions track farther north and is considered "safe" from hurricanes. That said, there is currently a large tropical depressions to east of here, which we are all monitoring closely.
Moonshadow has awoken from her long summer's nap in reasonable condition. She has new anti-fouling, polished topsides, new batteries and freshly painted boom. A nice glow on interior wood from mildew beckons for the skipper to wash. A new jib was made here on a state-of-the-art computerized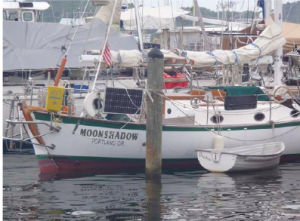 cutting table (seriously!) and fits well.
After many starts and stops Moonshadow finally has crew, a mature experienced British woman has agreed to join me for the trip to the Netherland Antilles, Cartagena Columbia, and Panama Canal. Not sure why a woman with her experience and pedigree would agree to sign on with a sketchy old sea captain with a checkered past.Did she not do a simple background check? Does she not realize I fly the Jolly Rodger and usually have to leave port under cover of darkness? We plan set sail around November 1st.
So, will keep chipping away at projects until time to leave. Oh yes! I still have to sew the little raincoats for the sea cocks.
Cheers, Richard SV Moonshadow Chaugaramas, Trinidad